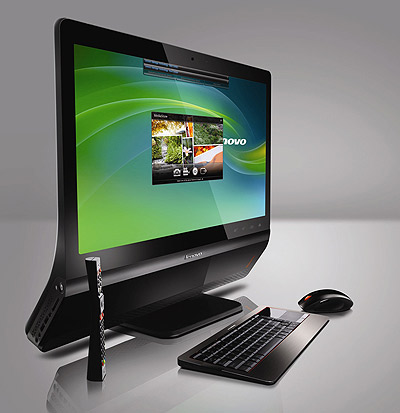 Along with a host of hot new notebook releases primed and ready for CES, Lenovo is also rolling out the IdeaCentre A600 all-in-one desktop. The sleek desktop offers a 21.5-inch frameless screen, which is 1.06 inches thin. For entertainment enthusiasts, it offers a high-definition 16:9 aspect ratio screen for cinema-like viewing and support for 1920x1080 full HD resolution. The integrated speaker system includes a booming bass sub-woofer and Dolby Home Theatre audio certification. The addition of an optional Blu-ray player completes the package.
Other specs include a choice of Intel Core 2 Duo processors, optional ATI Radeon graphics card with DirectX10 support, up to 4 GB of fast DDR3 memory and up to 1 TB of hard drive space. The IdeaCentre A600 also offers several connectivity options including Wi-Fi, a 6-in-1 media card reader, side-mounted USB and FireWire ports with additional USB ports at the rear of the panel. It also offers VeriFace facial recognition that lets users use their own grinning mug as the logon password.
Users can use the digital TV tuner for watching and recording television programs and users can include Microsoft Vista Media Center for TV recording and navigation between video, music and TV.
The A600 also boasts and optional 4-in-1 remote control that lets users play games using the "motion drive" feature which controls on-screen objects based on movement -- think of a Nintendo Wii controller on your PC. The remote also doubles as a VoIP handset to make and receive Internet calls, all while acting as a media center/TV remote to operate DVDs, movies and television. Lastly, the remote can be used as an air mouse to operate the cursor on the screen with no wires needed.