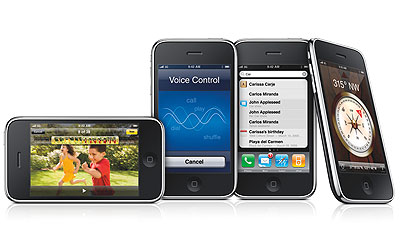 The Ups and Downs Of Apple
To this point Apple has been experiencing a turbulent but triumphant year. In January the company lost its leader, Steve Jobs, to illness which culminated in a liver transplant. Critics have attacked the iTunes App Store for a lack of clear leadership and policy for approving or rejecting iPhone apps. The Palm Pre was launched, posing a serious threat to Apple's smartphone dominance. A Microsoft advertising campaign appeared to inflict some damage, targeting the price the average consumer pays for Apple hardware.
But Apple has bounced back. Steve Jobs appears to have convalesced and has returned to Apple following his liver transplant. The Palm Pre is in the wild and selling, but the Apple iPhone 3G S (shown) sold 1 million units in its first weekend, maintaining its dominant position over the up and comer. At the World Wide Developer's Conference, Apple dropped prices on the MacBook Pros, firing back at Microsoft's ad campaign. The iTunes App Store situation does remain in flux, but the year is only half over.