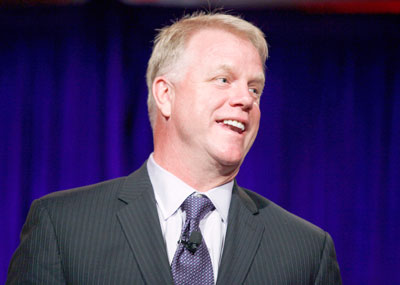 "After everything I've been through, life has come full circle for me." Esiason concluded, turning serious. "What I care about -- what drives me now -- is for my son to outlive me." On the heels of that earnest admission, Esiason immediately lightened the mood. "Actually that might not be that hard, given that I also have a 17-year-old daughter who's trying to kill me." (Gunnar Esiason is currently healthy and attending college.)
But noting his daughter Sydney's predilection for always-connected communications, Esiason threw a barb at his audience of technology integrators: "You're the people that are ruining my life!"
Ultimately, success in business comes down to the personal touch, Esiason concluded. "The most important contact you can have with someone, is to be able to look them in the eyes and see their soul... That's the ultimate communication."
And for the people that are helping you be successful, he said, "A handshake goes a lot farther than an e-mail from the cloud... Stay personal, and have a great year!"