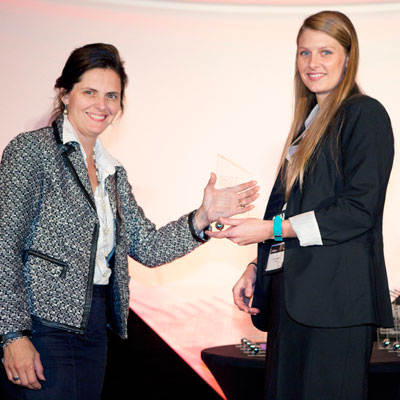 Fastest Growing Company With Revenue Under $50 Million
Greensboro, N.C.-based Varrow, #2 on this year's Fast Growth 100 list, had two-year growth of 876 percent and was the fastest growing solution provider with revenue under $50 million. Marketing director Jessica Randels (right) accepted the award from CRN senior editor Jennifer Bosavage.
"This particular solution provider, with its expertise in storage, virtualization and disaster recovery, helped Chesapeake Regional Medical Center plan and implement a new hospital information system that required a significant investment in additional infrastructure," Bosavage said, introducing the award. "The ultimate design of the virtualized data center reduced the physical rack space required. It also significantly lowered the costs to power and cool the infrastructure. That's just one example of how this solution provider supports its customers day in and day out."