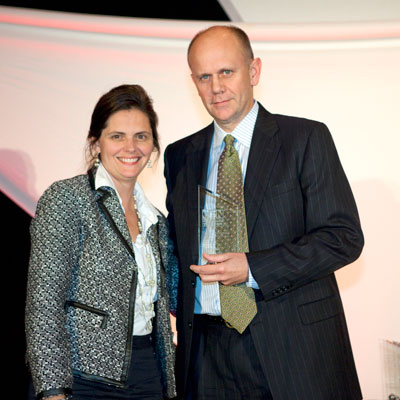 Fastest Growing Unified Communications Specialist
Hauppauge, N.Y.-based BlueWater Communications Group, #17 on this year's Fast Growth 100 list, had two-year growth of 138 percent and was the fastest growing unified communication specialist. Executive vice president of Sales Lou McElwain accepted the award from Bosavage.
"Since its founding, our next winner has looked to fill a niche often overlooked in the market place: the development of unified communications solutions that are based upon objective business metrics such as return on investment, lower total cost of ownership and increased productivity," Bosavage said, introducing the award. "It is fluent in all aspects of robust communications solutions, which has helped propel its two-year 137.5 percent growth rate. Recently, the solution provider implemented a solution for Pratt Institute. The campus had disparate networks: voice, data, and video at both the Brooklyn and Manhattan campuses. Today, everything is running securely on the same framework," she said.