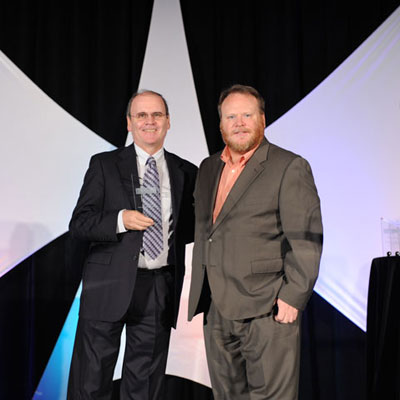 Cloud Solutions: WebSphere Cast Iron Cloud
This year's Tech Innovator Award winner in Cloud Solutions is IBM for its WebSphere Cast Iron Cloud Integration. The Test Center likes this winning solution because it enables companies to easily connect their public, private and on-premise applications, which is certainly no small task. This solution is an innovative "connectivity in context" approach to integration that simplifies and accelerates the process for solution providers and IT Departments. Accepting for IBM is Shaun Jones, vice president, of IBM's worldwide business partner and midmarket marketing, left, with the Test Center's Edward F. Moltzen.
Runner up on the cloud category was Aerohive, which was recognized for HiveManager, a cloud-based network management system that can manage and monitor potentially thousands of wireless access points from a central, virtual console. Additional out-of-band tool capabilities include policy configuration and firmware upgrades.