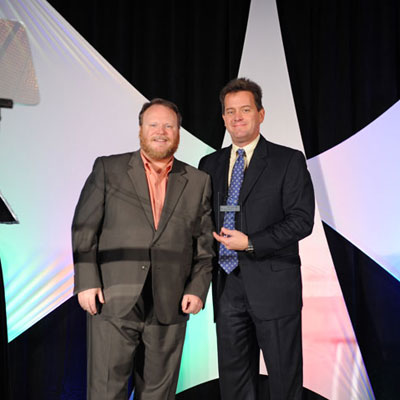 Intermec Takes The Lead In Handhelds
The Tech Innovator Award for Handhelds this year goes to Intermec, for its CK71. This company continues to innovate in ultra-rugged handheld computers for warehouse and distribution environments -- environments which are often as vital to an enterprise as any. Its latest example of innovation is the CK71, which is about one-third smaller than competing products while being faster, lighter and more functional, as well as connected. Accepting for Intermec was Jeff Hovorka, product marketing manager and principal of computer strategy at Intermec, right, with the Test Center's Edward F. Moltzen.
Runner up in handhelds was Psion for its Omnii XT10, the first device to be developed through the company's open innovation collaborative business model. The Omnii XT10 is a versatile, rugged and adaptable platform designed for logistics, supply-chain, transportation and other demanding users.