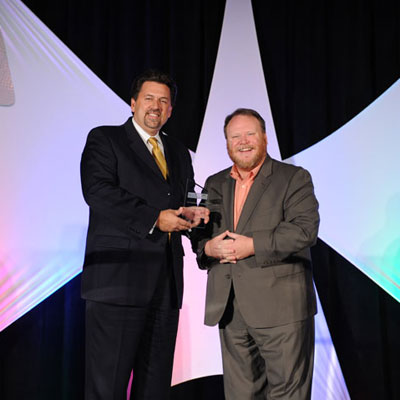 Beware Hackers: A Shark Awaits On The Riverbed
Exactly what events led to your company's most recent malicious network intrusion? Cascade Shark can tell you. The winner of this year's Tech Innovator Award for Networking, Enterprise goes to Riverbed for a product that delivers real-time and back-in-time forensic analysis and reporting of network and security events, making it not only possible but easy to perform such flow analysis and packet-based troubleshooting. Accepting for Riverbed was Randy Schirman, Senior Vice President of Worldwide Channels, left, withe Test Center's Edward F. Moltzen.
Special mention in enterprise networking goes to F5 Networks for its Viprion 2400 application delivery controller. F5's latest appliance introduces a method of combining virtualization with multi-tenancy to accelerate application delivery performance, and was runner up.