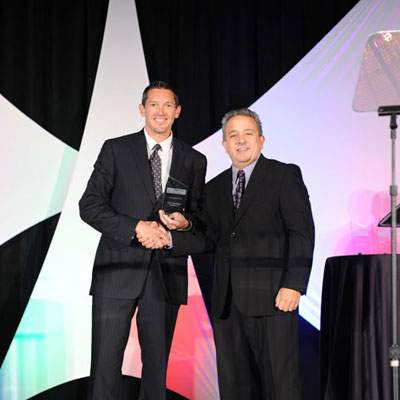 One Ringy-Dingy: This Is The Operator 1.1
The 2011 winner in the Networking, VoIP is Kerio Technologies for its Operator 1.1. The latest version of this company's software and hardware IP PBX for small and medium business grabbed our attention for innovations such as enhanced SIP security, auto-provisioning for common phones and email and voice mail integration. Coming to the stage was Jim Ringham, Kerio's global product marketing director, left, with the Test Center's Edward J. Correia.
Also worthy of note was Snom Technologies and its Snom One IP PBX. From the "If it's free, it's for me," play book, this year's VoIP runner up offers a full featured voice management system that works with Linux, Mac OS X and Windows hosts and is free for up to 10 users. The system includes conferencing, auto attendant, hunt groups, voice mail-to-email, hot desking, simultaneous desk and cell-phone ringing and much more, all administered through a Web browser.