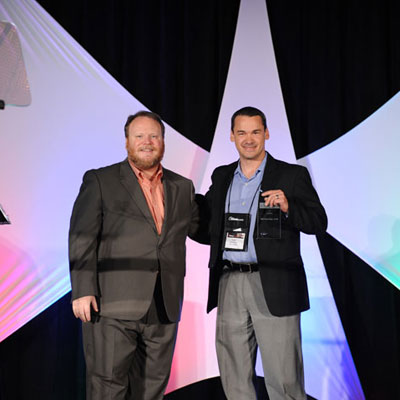 Dell C6145: On The Edge Of Power
For its ability to break through major performance barriers, this year's Tech Innovator Award for Servers goes to the Dell PowerEdge C6145. Designed with virtualization in mind, this server is by far the fastest, most powerful mainstream enterprise iron that's ever come through the CRN Test Center. Actually two servers in one 2U chassis, the C6145 can pack up to 96 AMD processor cores, 1TB of memory and 10 PCIe expansion cards, all of which share power and storage mechanicals. Accepting for Dell was Todd Werner, director of channel mid-market sales, right, with the Test Center's Edward F. Moltzen.
Runner up in the server category was the Intel Server S1200BT family of general purpose server/system boards. Its innovative design makes it suitable as a basis for building application servers for small to medium businesses with either a pedestal or rack layout.