Miami Heat: 2011 Tech Innovator Awards
4:00 PM ET Fri. Oct. 07, 2011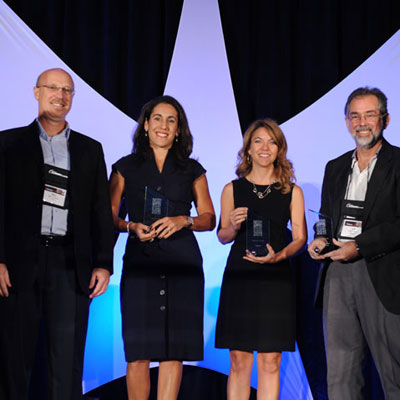 'Is Everybody Appy?'
A first here at the NexTI Conference in Miami, we also introduced the Enterprise App Awards, in which we draw special attention to companies that have delivered enterprise-class solutions to new platforms or form factors.
In its inaugural year, more than 50 companies were nominated for the award, which we affectionately refer to as "The Appies." Three Appies were awarded this year, in recognition of the top mobile apps for business, and for outstanding achievement in driving enterprise IT into the hands of the mobile marketplace.
Appie award recipients were Siemens' Mike Fasciani and Jeff McNiece, far right and far left, Kyle Benson of Citrix, middle left, and Digium's Angie Reed.