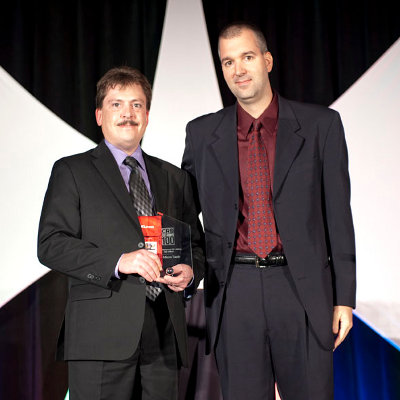 Revenue From $251 Million To $500 Million
For the second consecutive year, the fastest growing solution provider in the $251 million to $500 million tier is MicroTech, Vienna, Va. MicroTech has a solid reputation in government contracting, which is built on its management team's combined military leadership service of 150 years. Although it's widely known in Federal government contracting circles, this VAR also features a broad client base that ranges from growing businesses, to city, state and local agencies, to Fortune 500 enterprises. A veteran and minority-owned company, it has grown in revenue more than 4,000 percent since its launch in 2004. Its phenomenal two-year revenue growth rate of nearly 750 percent earned it the No. 4 spot on the 2011 Fast Growth list.
Accepting the award from CRN's Rob Wright (right) is MicroTech CIO Preston Quick.