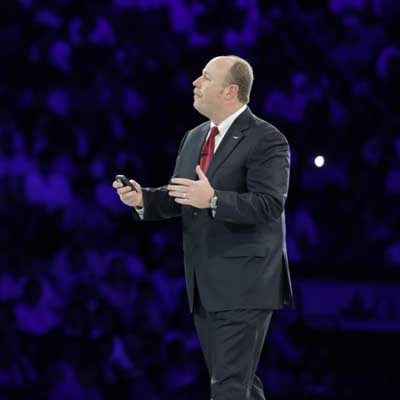 Microsoft Is Competing Hard Against VMware In Virtualization
Every year at the Worldwide Partner Conference Microsoft executives seem to zero in on specific competitors as the enemy. This year VMware was the target.
While introducing Windows Server 2012 in a keynote, Satya Nadella (left), president of Microsoft's Server and Tools Business, spent a great deal of time touting the server's expanded virtualization capabilities and comparing them to VMware. He also urged solution providers to take an aggressive stance to win over VMware customers and unveiled the "Switch to Hyper-V" program that offers tools, training and guidance to help partners convince customers to shift from VMware to the Hyper-V technology in Windows Server. Microsoft COO Kevin Turner also took aim at VMware in his keynote, calling VMware "expensive" and saying Microsoft is now gaining market share against the virtualization technology rival. And he had a message for partners who haven't switched from VMware to Microsoft's product: "You're late, but we still love 'ya."