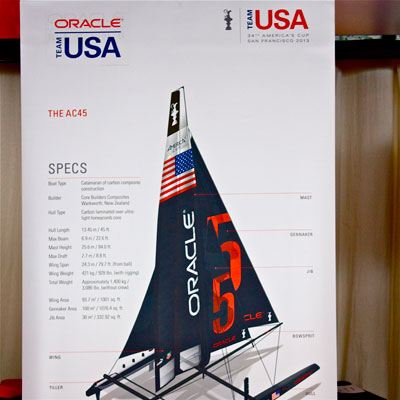 High Tech On The High Seas
There are two types of electronics needed in performance sailing, Aldaz said. The first type is for the sailors, who need "true wind direction and true wind speed," he said. The design team and performance analysts, however, have other needs. "Are the loads real, or am I seeing less?" Aldaz said, referring to the load of pressure being put on the vessel. As such, the boats are rigged with high-tech, fibre-optic sensors running throughout.
With a number of sophisticated gadgets measuring and analyzing every dip and turn, there ends up being a whole lot of information, and each team member has different needs. "There's a lot of data on the boat that we store in a database," Aldaz said, which poses yet again another barrier: The carbon used to make the hull prevents the transmission of wireless data, which meant that there needed to be a way to get that data to the design and performance analysts on shore.