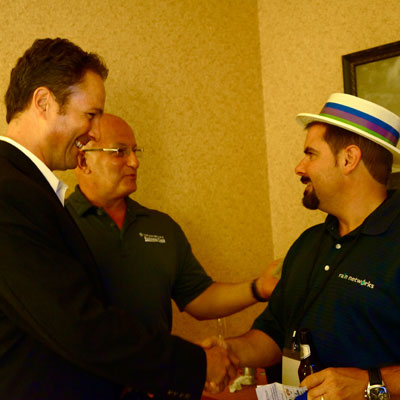 Time Warner Cable Business Class
When walking into the Time Warner Cable Business Class demo room, the first thing one saw is the flat-screen TV playing a live football game -- this is fitting because when most people think of Time Warner, they think of either television or movies. Time Warner Cable Business Class representatives had conversations with attendees about its products and services, where they are located and why it is important for IT VARs to work with companies like Time Warner Cable.
"Our footprint, product set and support set us apart from our competition as well as the fact that we partner with 95 percent of the largest master agents in the country," said Gregg Iuzzolino (left), director of sales for Time Warner Cable Business Class. The company was demonstrating and discussing the fact that it has cost-effective products and services ranging from phones, Internet, Ethernet and cable TV for small, midsize and large organizations.