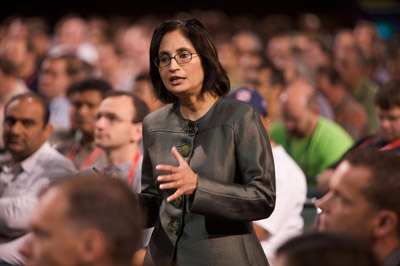 Padmasree Warrior, Cisco CTO, used a blog in January to describe Cisco's unified computing strategy and help ignite buzz around Cisco's unveiling Monday of that strategy.
In her blog, Warrior wrote that Cisco is innovating around an architectural approach she calls "Unified Computing."
She defined it as a way to advance toward the next-generation data center by unifying all resources in a common architecture, including the compute platform, the storage platform, the network and the virtualization platform. Such an integrated architecture breaks down the silos between compute, virtualization and connect, she wrote.
"IT architectures are changing, becoming increasingly distributed, utilizing more open standards and striving for automation. IT has traditionally been very good at automating everything but IT! Unified Computing and automation at an architectural level can lower operating costs while extending capital assets," Warrior wrote.