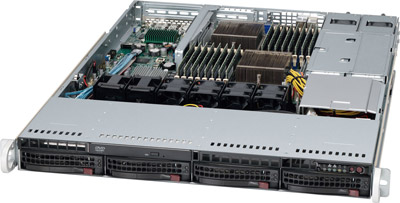 Supermicro: Nine New Magny-Cours-based Servers
Supermicro is supporting the 12-core AMD Opteron 6100 Magny-Cours processors in two ways.
For many custom system builders, Supermicro is providing motherboards and barebones systems that can be fully configured before shipping to customers.
The San Jose, Calif.-based vendor is also introducing a line of nine new Magny-Cours-based servers for customers.
At the entry-level is a 1U rackmount, single-socket server with room for up to 8 DIMMs of DDR3 memory and four hot-swap SATA hard drives.
The company also unveiled three dual-socket models, including two 1U and one 2U versions. The 1U servers both support up to 16 DIMMs, with one supporting three hot-swap SATA drive bays and the other supporting four bays. The 2U version is similar, but supports up to eight SAS or SATA hard drives.
Also new are three quad-socket models all supporting up to 32 memory DIMMS. One model supports up to three hot-swap SATA drive bays in 1U of rack space, the second up to six hot-swap SAS/SATA hard drive bays in 2U, and the third up to six hot-swap SATA hard drive bays in 2U.
Two other new models support up to four hot-plug dual-socket server nodes, 1 TB of memory, and 12 hot-swap SATA hard drives in 2U. One of these models includes InfiniBand as part of the total solution.
All the new servers include onboard Intelligent Platform Management Interface (IPMI) 2.0 remote management and high-efficiency 80 PLUS Gold-Level certified power supplies.