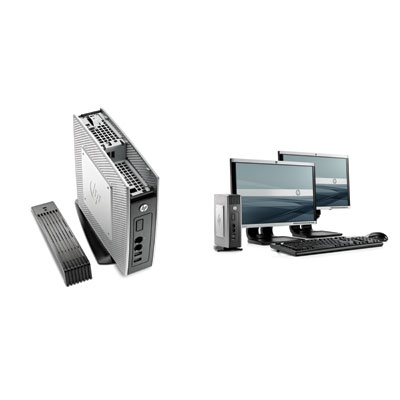 The meteoric growth of virtualization and VDI is causing more companies to gravitate to thin clients, and HP is rolling out several new models to meet the needs of all market segments. The HP t5550 is aimed at companies that require legacy ports, Citrix ICA, Remote Desktop Protocol (RDP), terminal emulation, Windows Media Player, Microsoft Office viewers, and basic Web browsing.
The HP t5500 comes with Windows CE 6.0 pre-installed, allowing users to access file viewers for Microsoft Office 2003 Word, Excel, and PowerPoint through the Start menu. It's also flexible when it comes to displays, with native dual-digital monitor support as well as the ability to run analog displays through a DVI-I to VGA adapter.
Security is also part of the HP t5500 package, with Symantec Endpoint Protection Firewall, Enhanced Write Filter and a secure USB compartment. The HP t5500 Series thin clients will be available on Jan. 10 and are priced starting at $249, which includes a limited three-year hardware warranty.