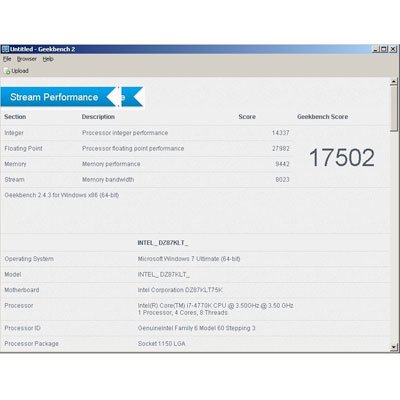 Haswell That Ends Well
Haswell's Geekbench performance results from our tests were off the charts. Before tweaking any performance settings, Geekbench 2.4 reported 16,862, already faster than any laptop or ordinary desktop we've seen. The system really started cooking once we had optimized Windows for performance and downloaded and installed all of Intel's drivers. It delivered a top Geekbench score of 17,502. That score knocked Dell's Precision T1650 Workstation into third place, and took first place from Dell's Precision M6600 Mobile 'Workhorse'.
By July, Intel will be shipping four Haswell SKUs at prices from around $197 for the low-end Core i5 4430 to a high of $368 for the Core i7 4470K tested here. The high-end H-series will include four processor cores and Iris Pro 5200 graphics, Intel's most powerful. The more modestly priced M series will be available with two or four cores. The U series is designed for Ultrabook devices and will be offered at 28 watts with Iros Pro 5200 graphics or 15 watts with Iris (non-pro) 5100.