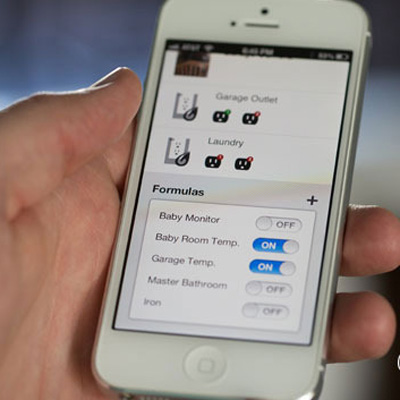 Benki: Connected Devices Done Right
Benki has got three devices to launch, all of which let users control devices no matter where they are through one app for Android and iPhone. Socket, Benki's smart outlet that plugs into an existing outlet, comes equipped with a light, temperature sensor and microphone. Each outlet can be turned on/off individually and controlled automatically on customized settings. View, Benki's small battery-powered device that has a camera, light and temperature sensor, allows a user to literally view an area where it is left behind. So if on vacation and there is a drastic temperature change, View will allow the user to see if the basement has flooded or not. The third and final product is the Break, which is an open/close sensor that can be placed on doors, cabinets and windows. One part of the device is placed on one side of a door, for example, while the other is placed on opposite side, and Break lets the user know when the two halves are disconnected. Its temperature sensor tells whether energy is being wasted when cooling and heating.
Currently, 314 backers have pledged $52,161 of the $220,000 goal. The funding period ends July 4, 2013.