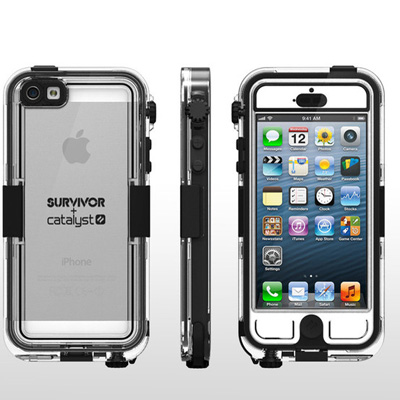 Waterproof iPhone Cases
While it won't save a person from drowning, the LifeProof LifeJacket is a thick and durable, waterproof case built for the iPhone 4 and 4s. The case floats, keeping an iPhone from sinking, and it also withstands impact from up to a 30-foot drop. Its bright orange color keeps it highly visible in the water, dirt or snow. All buttons and features still work inside the case, including headphone jack, speaker, mic, and camera and flash. The case is also equipped with a wrist strap. It's available for $39.99.
The Survivor + Catalyst Waterproof Case (pictured) for the iPhone 5 keeps the phone tightly sealed from an electronic device's worst nightmare, water. It was designed and tested to remain waterproof for up to 9.8 feet while taking pictures, sharing video, controlling volume and charging. The interior of the case features TPE shock-absorbing bumpers, a PET Integrated screen cover and silicone gasket, which seals water out. The exterior is made of polycarbonate and nylon. This case is equipped with a wrist strap and available in a variety of colors. It's available for $69.99.