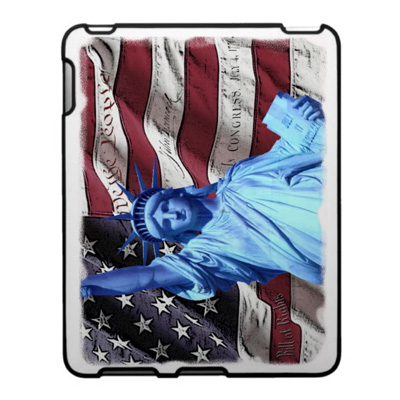 Patriotic iPad Cases
The Statue of Liberty and American flag are important symbols, and this iPad case features both. This hard, plastic iPad case features the design printed on an easy-to-grip fabric material. It measures 0.71 inches by 7.7 inches by 9.79 inches. It's available for $60.95.
Also, this tablet hardcover case and stand is handcrafted and made from 100 percent Italian suede leather. The 4th of July case is laser-etched onto the leather and features the four Founding Fathers of the U.S.: Theodore Franklin, George Washington, Thomas Jefferson and Abraham Lincoln. It also has the text from the Declaration of Independence document signed in 1776. This unique tablet case is hand-dyed with eco-friendly leather dyes. What's great about this case is that its closing design also operates as a stand. This case can hold iPads, Kindles, Google Nexus, Samsung tablets and more. It can be purchased for $51.53.