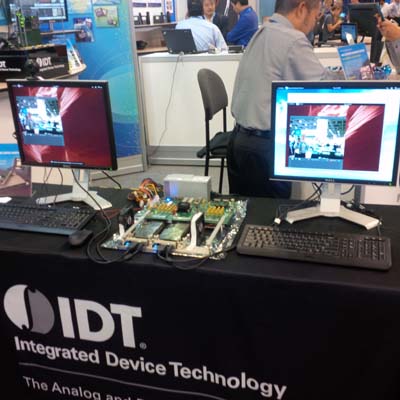 IDT: RapidIO-Based Supercomputing and Data Center Reference Platform
Integrated Device Technology (IDT), a San Jose, Calif.-based developer of mixed analog and digital semiconductor solutions, at IDF unveiled a supercomputing and data center reference platform based on its 20-Gbps RapidIO interconnect devices. The new platform features a RapidIO-based backplane, compute nodes with RapidIO-to-PCIe interconnect, and Intel Xeon-based servers to help the company's OEMs to develop scalable and energy-efficient supercomputers and data centers.
IDT said the new platform will be used as a basis for computing and switching reference design submissions by the RapidIO Trade Association (RTA) to the Open Compute Project. The RapidIO-based reference platform supports up to 48 advanced mezzanine card-based compute nodes per chassis, with backplane communication speeds up to 20 Gbps between chassis. Using external RapidIO-based top-of-rack switching, the platform scales to up to 64,000 nodes per system.