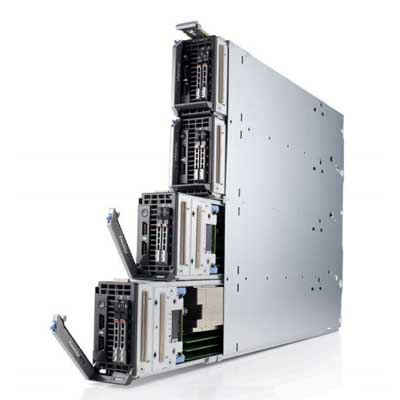 32 Servers In A 10U ARack
This year Dell did some cool things to its M-series blades server line. According to the company, its brand-new PowerEdge M420 is the world's first blade server node in a quarter-height form factor. And for such a small package, the M420's specs are impressive. Each dual-socket unit can cram as many as 16 Intel Xeon E5-2400 processor cores (2.3GHz maximum), and 192 GB of DDR3 1,600MHz memory in six DIMM slots, plus two 1.8-inch hot-swap SSDs of as much as 200 GB each.
The M420 units can fit into Dell's M1000e Blade Enclosure, which can house as many as 32 M420 server nodes in 10U of vertical rack space. Dell's M420 and M1000e Blade Enclosure is cool for high-availability business applications, distributed workloads in cloud and high-performance computing environments and virtualized environments with high node counts. The system is certified for Citrix XenServer, Microsoft Hyper-V v2 and VMware vCenter, as well as Red Hat and SUSE Linux and Windows Server 2008 R2 SP1 x64.