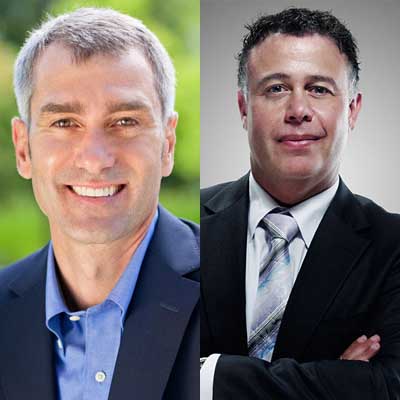 7. Whitman Names Business Unit Chiefs
HP CEO Meg Whitman often says one of the secrets to success is having the right people in the right job with the right attitude. Among the 2013 appointments that have already resulted in operational improvements and more aggressive field sales activity are Bill Veghte (pictured far left), who was COO, to the top enterprise group job; the appointment of Dion Weisler (pictured right), who was head of HP's Asia Pacific printing and personal systems business, to the top printing and personal systems job; HP CTO Martin Fink taking on expanded responsibilities for the HP Cloud Business; and Henry Gomez being named Executive Vice President and Chief Marketing and Communications Officer.
Veghte delivered the first enterprise group sales growth in two years. Weisler sharpened HP's printing and personal systems competitiveness. Fink stepped up the pace of HP's cloud computing activity and Gomez established a new worldwide channel marketing offensive.