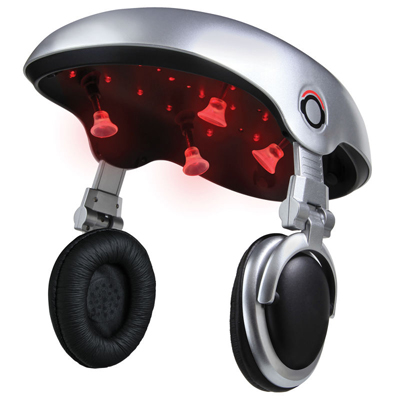 iGrow Laser Hair Rejuvenator
A headset that doubles as a Rogaine treatment, the iGrow Laser by Apira Science claims that its laser technology, which is embedded in the headset, can help reverse hair loss in both men and women. The device uses 21 laser diodes and 30 LED lights to provide pain-free hair follicle stimulation, so you can get hair loss treatment via your headset while you're working at your desk or listening to music.
But, here's the problem. Even if the treatment works, it's hard to believe anyone would want to wear something this ugly for extended periods of time, considering that Apira Science says it takes about 24 weeks to receive "the appearance of thicker, fuller, healthier hair." The iGrow laser looks like a bulky, futuristic bicycle helmet -- complete with flashing lights -- that sits high atop your dome, and to unsuspecting passers-by, the device might resemble some kind of sinister mind control device from "Total Recall."