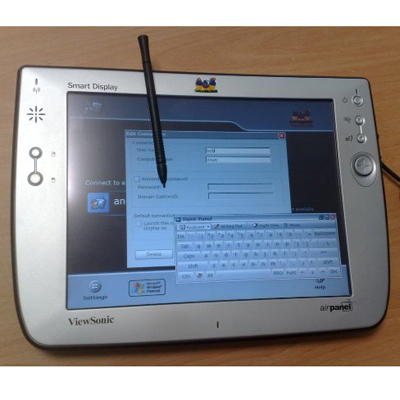 Microsoft Windows Smart Display
Speaking of clunky tablets, remember Microsoft's "Mira?" That was the codename for Microsoft's precursor to the tablet, which Bill Gates famously introduced at the 2002 Consumer Electronics Show. A portable touchscreen device with its own operating system (Windows CE) and the ability to connect to traditional PCs, the tablet-like Smart Display was on the right track.
But, the product suffered from several issues -- a high price tag and connectivity problems, to name two. The most egregious visual offense was the Smart Display's clunky, unattractive design, which was partly to blame on ViewSonic and other OEM partners. The thick borders and odd control panels made the Smart Display have an extremely inelegant display, while the size and weight of the device basically rendered Microsoft's Mira as an underpowered notebook with no keyboard. In other words, it was the worst of both worlds for the combined display-mobile computer. Microsoft discontinued the Smart Display a year after its launch.