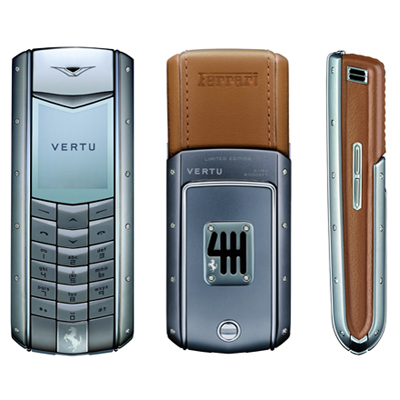 Vertu Ascent Ferrari 60
Admittedly, we're grading this device on a curve. By itself, it's not a terribly ugly phone. But when you involve the maker of one of the most beautiful sports cars ever produced, well, you set expectations rather high. And Vertu Ascent Ferrari 60 phone, which was introduced in 2007, does not meet that standard.
When you hear "Ferrari phone," you'd expect the device to share some design aspects of the iconic sports car. But, we're just not seeing it. Sure, the phone has an engraved Ferrari transmission gate on the back battery cover -- but, who cares? It just looks like a weird vent has been bolted on to the phone. And, the case leather may be real, but we'll never understand why the case is at the top of the phone, like an old-school football helmet, instead of around the grip where a user holds the device. Plus, the skinny phone has an extremely narrow screen and keyboard, which doesn't exactly make it easy to use. For $25,000, you'd think you'd be getting a better looking phone.