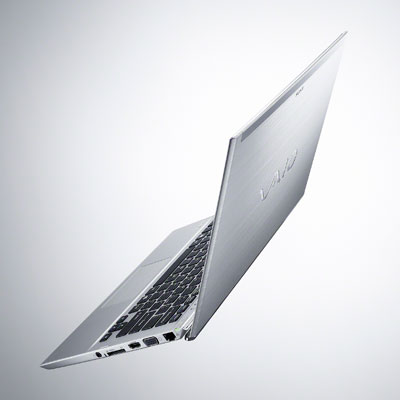 Sony's Special Ultrabook
Although it was but a small part of Sony's larger road show, the T Series all but stole the show. Sony's first laptop built to the Ultrabook spec is something special. This sleek, ultra lightweight unit, and its bright 13.3-inch LED, is clad in beautiful brushed aluminum and magnesium.
Measuring just 0.71 inches when closed and about 12 x 9 inches around, it weighs in at 3.5 pounds. Yet it still manages to pack HDMI and VGA outputs, Bluetooth 4.0, Wi-Fi and gigabit Ethernet, as well as a USB 3.0 port that's powered at all times. But the best part is that Sony's Ultrabook starts at $799, about $200 less than most others. And that includes an Intel Core i5 Ivy Bridge processor, 4 GB of DDR3 memory (upgradable to 8 GB) and 64-bit Windows 7. When Windows 8 becomes available, Sony will offer an upgrade for $15.