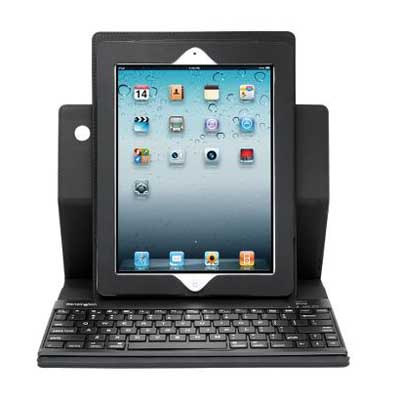 Kensington KeyFolio Pro: $99
Also from Kensington is the KeyFolio Pro performance keyboard case, a folio-style case built around a slide-in iPad compartment. This allows the screen to easily rotate 360 degrees while the folio is tilted at either 90 degrees or 30 degrees.
The keyboard has two toggle buttons, one to connect the device via Bluetooth and one to turn the power on and off. The power lights indicate that the device is on, connected to Bluetooth, charging and whether caps lock is engaged. The case is made of durable synthetic leather, and the protective edges reduce damage and wear to the iPad and the folio itself. The intuitive design also includes a camera hole and a protective front flap. It does not support the Smart Lock feature. Its working time is rated at 100 working hours with 60 days of standby time. Retail price is $99.