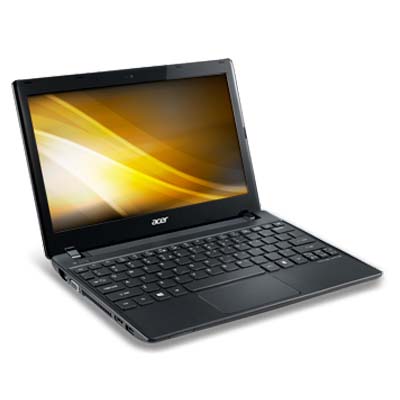 9. Acer TravelMate B113M
Acer has gotten lots of mileage out of the TravelMate brand, and has improved much along the way, although perhaps less so with its product naming. A case in point is the TravelMate B113M-6460, one of Acer's latest iterations that packs an enormous amount of hardware into a cabinet that can only be described as netbook-ish. Surely not a netbook, this TravelMate sports an Intel Core i3 (2377M) processor 1.5GHz processor running 64-bit Windows 7 Pro on 4 GB of DDR3 memory, 320-GB hard drive and HD Graphics 3000.
The thin and light TravelMate also shares many Ultrabook characteristics. The unit's bright 11.6-inch screen puts out a dazzling 1,366-x-768 pixel count with an aspect ratio of 16:9, perfect for viewing HD video. The TravelMate comes with a one-piece AC adapter that will never get separated from its power cord. At about half the price of a MacBook Air, it's one that should be on your holiday-buying radar.