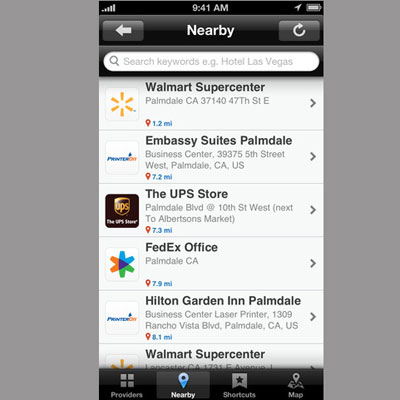 ePrint App For Android, BlackBerry, iOS
It makes sense that a world-leading printer maker would also offer a terrific solution for accessing its printers from mobile devices. Such is the case with ePrint App and ePrint Enterprise service from Hewlett-Packard, which are among the best solutions we've seen. When used with ePrint-enabled HP printers, the ePrint App for Android, BlackBerry and iOS lets smartphones and tablets output directly or by sending email through the service to an address created for the desired printer.
While performing a review of HP's LaserJet Pro 400 MFP M425dn for Printer Week 2013, a page popped out with instructions for configuring HP's ePrint Center back-end services for remote printing to this unit. The concise instructions included creating a dedicated email address and inputting a time-limited security code. The ePrint Enterprise service works with ePrint-compatible printers only; the ePrint App also works with some HP models with Wi-Fi Direct. Both are free.