by

Edward J. Correia and Kathy Kim

on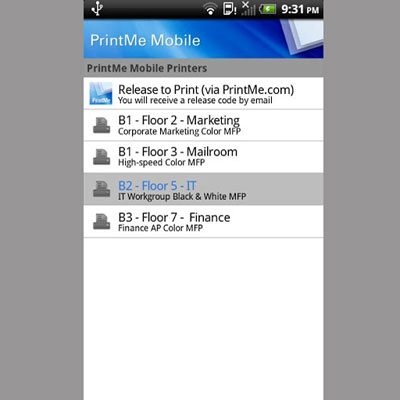 Here's a solution that can print-enable the mobile devices of an entire company in one fell swoop. PrintMe Mobile from EFI is a server-based solution that not only removes the subnet restrictions that bind products like Apple's AirPrint, but makes non-Wi-Fi printers accessible to wireless devices. It also enables email-to-print with attachments, and release-to-print, which holds print jobs until a security code is entered into the mobile device, presumably while standing at the printer.

Once installed on the network, PrintMe Mobile broadcasts a list of available printers for display on mobile devices running Android and iOS, which requires no additional software. For Android tablets and smartphones, there's
PrintMe Mobile for Android
, which enables printing with Android's Share, Open With, and Complete Action Using app functions. PrintMe Mobile preserves fonts and layouts for printing and supports file formats of MS Office as well as GIF, JPG, TIFF, PDF, PICT, TXT, PostScript and others. EFI in October released the
PrintMe Mobile L100
, a Linux-based appliance for plug-and-play deployment of its solution.