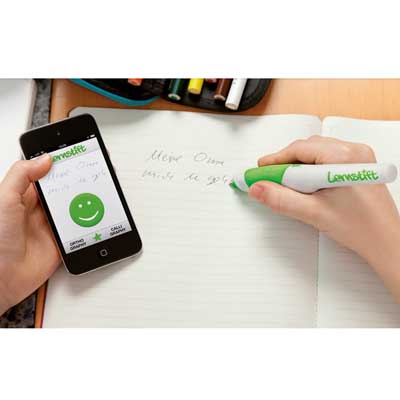 Lernstift, The Mistake Reconizing Pen
Skip typing and kick it old-school with this writing utensil that promotes better spelling. Lernstift is a digital pen that vibrates upon a spelling error. Created by Munich-based entrepreneurs Daniel Kaesmacher and Falk Wolsky, Lernstift combines traditional handwriting with digital technology. Unlike other digital pens that use optical sensors to track writing movements, special paper and external devices or apps, Lernstift instead utilizes built-in software technology, an embedded Linux system. Within the board is a motion sensor, processor, memory, Wi-Fi and vibration module that fit directly inside the pen. In addition to the spell check, a grammar check is in the works. This digital pen will even learn a user's handwriting. There are two modes, the orthography mode that recognizes spelling errors and calligraphy mode to call attention to form and legibility issues.
At press time, 171 backers had pledged $25,536.33 of the $181,248 goal. The funding period ends Aug. 9, 2013.