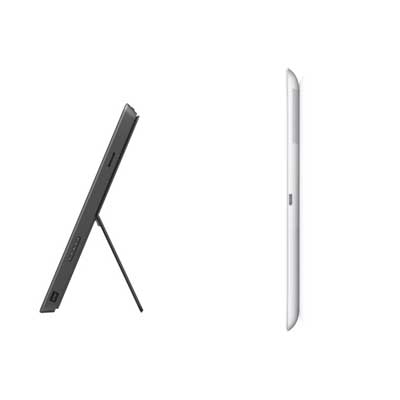 Dimensions And Ports
Both tablets are too large and heavy to hold for long periods. The Surface Pro 2's dark grey metal case is 10.8 inches long by 6.8 inches wide and slightly more than a half-inch thick. The iPad's black or white plastic and metal case measures 9.5 inches by 7.3 inches and is about a third of an inch thick. At a full 2 pounds, Surface Pro is more than a half-pound heavier than iPad's 1.44 pounds.
External device controls are about the same. Both have power and volume buttons, a headphone jack, mic and speakers, and a dedicated "home" button. Apple adds a combo mute and rotation-lock button. Microsoft adds a magnetic power connector that mimics technology that Apple developed and uses only on its laptops. For iPhones and iPads, Apple opts for the all-digital Lightning port, which handles charging, syncing, video output and other communications duties. Microsoft employs a Micro SDXC card reader, one full-size USB 3.0 port and a Mini DisplayPort output that requires one of Microsoft's $40 adapters to use.