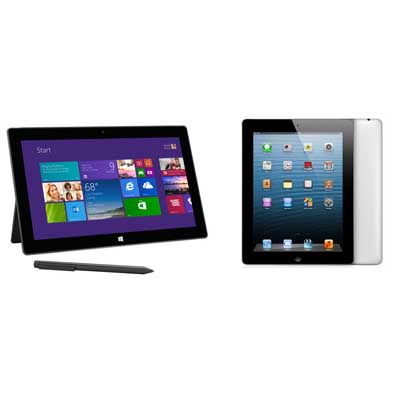 Apple 4, Microsoft 2
This week, Microsoft unveiled Surface 2 and Surface Pro 2, pressing its bets on a market that so far has been tepid toward Windows 8 and Microsoft-branded tablets. Scratch that latter problem off the list; the company's second-generation tablets now carry only the name "Surface." There's no more Windows 8 logo, and the maker's name is still nowhere in sight.
Meanwhile, Apple and its fruity logo continue to be gobbled up by more people than ever. Though its global market share has dropped according to an IDC report, the company worldwide sold 19.5 million tablets in the first quarter of this year, a 65 percent increase from the year-ago period. While Microsoft remains barely a blip on that global radar screen, the CRN Test Center takes a look at the specs of Surface Pro 2 versus Apple's fourth-generation iPad specs.
{C}