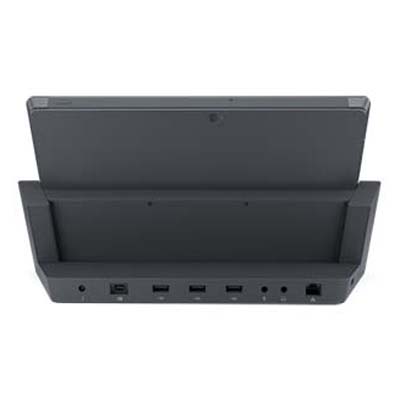 Ports, Cams And Connectors
The most substantive difference between Microsoft Surface (pictured) and Dell Venue tablets is the power connector. Microsoft offers a magnetic connector that pops off harmlessly at the slightest tug, but otherwise remains firmly in place. Dell has opted for a micro-USB-style connector for charging. While this is probably an improvement over the straight canon plug seen on many of its other devices, it's still quite vulnerable to stress-related damage and malfunction.
In terms of ports and I/O, Surface Pro 2 and Venue 11 Pro are about the same. Both include one full-size USB 3.0 port and a Micro-SD card slot that reads SD, SDXC and SDHC formats. Both support the addition of as much as 64 GB of additional device storage using the Micro-SD slot. Both can connect to a keyboard that doubles as a screen cover, and both can add USB, display and networking ports via dock. Both offer 720p front and rear cameras and dual mics. Venue 11 Pro provides a micro-HDMI port; Surface Pro 2 uses Mini DisplayPort. Neither supplies the adapter.