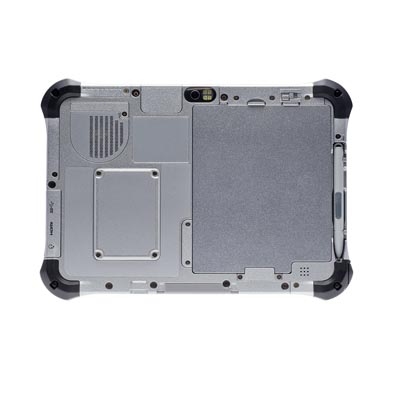 Dimensions And Physicality
Ruggedness comes at a price. Toughpad measures 10.6 inches long by 7.4 inches wide and is a chunky 0.8 inches thick. Its magnesium alloy chassis is surrounded by an ABS and elastomer border with protruding corners. A slightly elevated bezel helps protect the glass from drops on its face. It weighs 2.5 pounds without the power supply.
All controls and LEDs are along the lower front of its face. Dedicated buttons from right to left are power, screen rotation lock, Windows and volume up and down, followed by two programmable buttons. There are LEDs for power, hard drive access and battery status. Behind a flip-up waterproof cover on the right-hand edge are a full-size HDMI output port, the unit's single USB 3.0 port and a 3.5mm headset jack. The left edge holds a power input cover and the stylus. The top edge is home to an option slot that can accept a 9-pin serial port, USB 2.0 port, microSD card reader and or a Gigabit Ethernet port, as on the tested unit. The microSD slot can support as much as 64 GB of memory, adding to standard 128 GB or 256 GB SSD configurations.