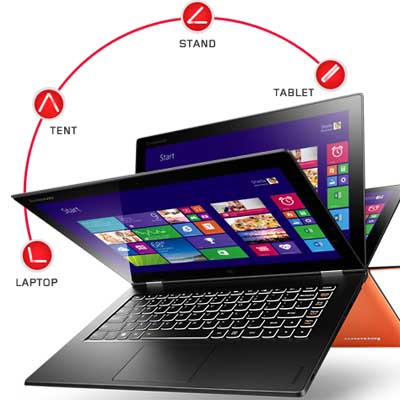 Style: Hybrid Laptop Tablet
Standout Features: Convertible notebooks (sometimes called tablet PCs) are a cross between a conventional laptop and a bulky tablet. Lenovo IdeaPad Yoga 2 is an excellent Ultrabook, never mind its split personality as a tablet. It features backlit keyboard, a 3,200-x-1,800-pixel-resolution display, $1,000 price tag and the ability to transform on the fly into a Windows 8.1 tablet.
Specs: Intel 4th gen Core i3 4010U/1.7GHz processor, 4 GB RAM, 128 GB hard drive, weighs 3.1 lbs., and has a 6- to 9-hour battery life, according to Lenovo.
Price: $1,000