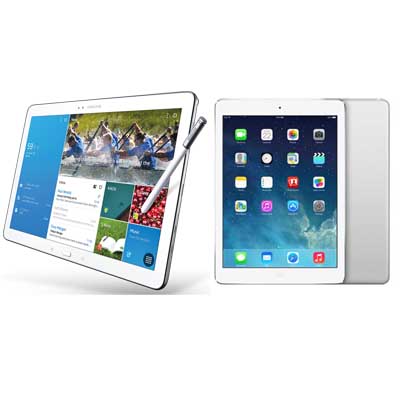 Samsung's Big Kahuna
Samsung took a bold step at CES 2014 this week, asserting its market leadership in business-focused devices by unveiling four new tablets aimed at the enterprise. The cream of that crop is the Galaxy Note PRO 12.2, a KitKat-based tablet with laptop-size screen and high-caliber processor that's preloaded with software enough to put the office PC experience wherever the job takes it.
Its 12.2-inch screen is clearly the largest of any mainstream commercial tablet to date, as is Samsung's commitment to building multitalented tablets that are as effective for creating content as they are for consuming it. So how does it compare with Apple's current high-end slate? The CRN Test Center takes a look with this head-to-head comparison of the Samsung Galaxy Note PRO 12.2 versus the Apple iPad Air.