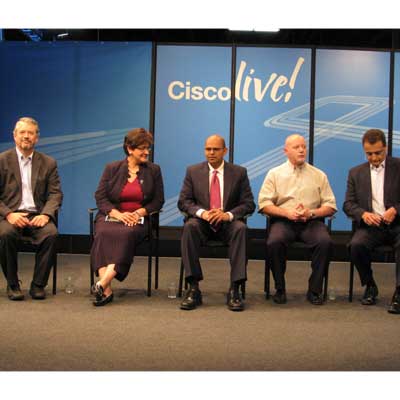 Soni Jiandani, senior vice president of Cisco's Server Access and Virtualization Technology Group, said Cisco's Unified Computing System (UCS) now boasts more than 5,400 customers worldwide and is adding 1,000 per quarter. At Cisco Live, Cisco execs cited recent IDC data showing Cisco as the No. 3 x86 blade server market share holder in the world, and the No. 2 blade provider in the U.S., behind HP.
Jiandani said about 60-70 percent of Cisco UCS customers are former HP server customers, and 30-40 percent are former IBM or Dell customers. The bottom line? Among strategic bets, Cisco's decision to go all-out in data center and compete with the reigning server incumbents appears to be paying off.
Left to right: Lew Tucker, Cisco's cloud CTO; Jiandani; Praveen Akkiraju, senior vice president, Cisco Services Routing Technology Group; Steven Senecal, manager, global server engineering, Travelport; and Lou Modano, head of global infrastructure for NASDAQ OMX.