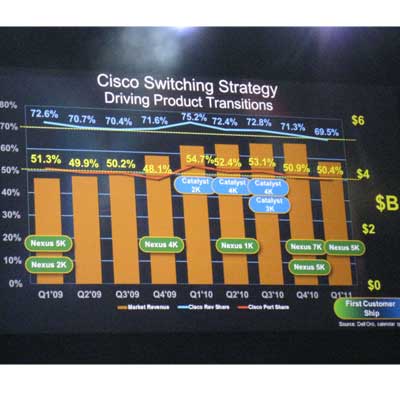 One of Cisco's big moves at Cisco Live was the launch of an updated Catalyst 6500 -- Cisco's most popular switch line.
According to Cisco, the updated feature set, including Supervisor Engine 2T 2-terabit card, allows VARs to sell investment protection to customers, because the Catalyst installed base is so large and it's a natural upgrade path. HP, however, jumped all over Cisco's claim that a Catalyst upgrade is a better investment than a rival HP switching architecture, setting off a week's worth of chest-puffing between the two vendors.
Cisco, in uncharacteristic fashion, railed back against HP's claims, accusing HP of spreading "blatantly misleading information." Maybe it's a sign of the newer Cisco -- which doesn't often explicitly call out competitors in public -- not willing to let rivals try to mess with its top sellers.