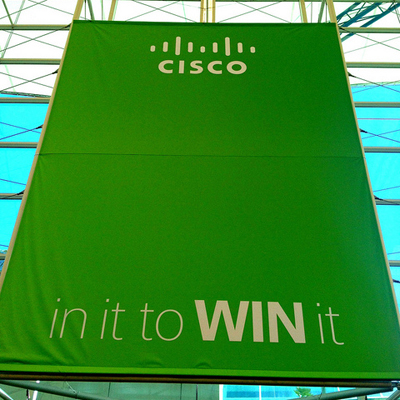 Cisco's Momentum With NetApp
Cisco has a delicate balancing act with EMC, with whom it's tightly partnered in VCE and the Vblock concept, and NetApp, EMC's scrappier archrival, which partners with Cisco for the FlexPod reference architecture. But right from the get-go, the FlexPod model was an easier sell for solution provider partners, and while Cisco and EMC VARs agree the VCE channel approach has been much improved in the past year, the momentum Cisco's had in its NetApp partnership is lapping the VCE/Vblock momentum, and then some.
According to a presentation to solution providers at Cisco Partner Summit (left) in April -- confirmed to CRN by multiple attendees -- Cisco said the number of VCE customers at that point was about 450, and the number of FlexPod customers about 850. (A NetApp representative recently told CRN that the number had hit 1,050 and counting by early July.) The two approaches target different segments of the market and very different customer needs, but as one partner of both EMC and NetApp described it, "Customers are customers."