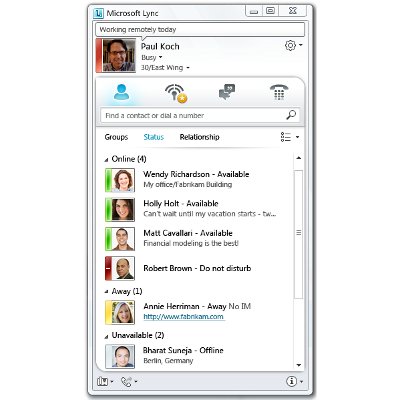 4. Microsoft's Growing Lync Legions
When Microsoft entered the VoIP market in 2007, Chairman Bill Gates heralded a "transformation to software-based communications is going to be as profound as the shift from the typewriter to word-processing software."
Five years and a bunch of roadblocks later, Microsoft Lync, which was the evolution of OCS when it launched in November 2010, has become one of Microsoft's most important emerging businesses and is growing fast enough that Cisco now considers Microsoft, not Avaya, its fiercest competitor in the UC space. Back in July, Microsoft said Lync revenue grew 45 percent year over year, and analysts from all over have pegged Lync as a potential boon for Microsoft in the enterprise. Even VARs that lead with Cisco and Avaya UC say they've been forced to put Lync in their back pocket -- or risk losing customers who want to go Microsoft. Lync now looks like the bona fide blockbuster it was always positioned to be, and should be even more so once Microsoft finally has a solid story around how Lync users will leverage Skype.