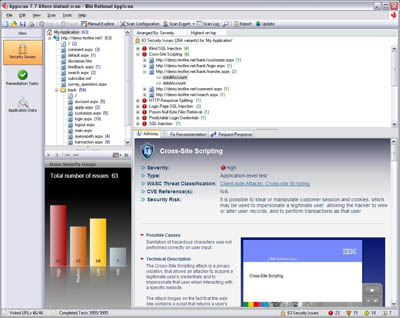 IBM Rational AppScan Express Edition
IBM Rational AppScan Express Edition, IBM's new software, is an automated security testing solution designed to help small- and mid-size companies address both external and internal Web security threats before they infiltrate the business. The tool enables users to scan and test for Web application vulnerabilities and subsequently provides streamlined advice on how to address or repair the errors.
In addition, IBM's latest addition to its Express Advantage Portfolio also helps SMB and mid-tier businesses adhere to mandatory regulatory compliance standards, such and the Payment Card Industry Data Security Standard or the Health Insurance Portability and Accountability Act. The latest Rational offering, paired with the expansion of Express Advantage threat mitigation services, provides mid-size businesses with necessary data protection tools in order meet numerous compliance standard goals.