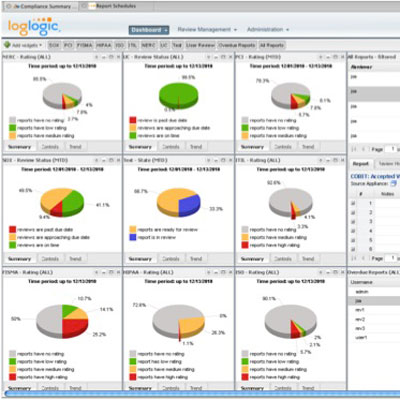 LogLogic Compliance Manager 2.0
LogLogic users RSA Conference 2011 to launch Compliance Manager 2.0, which provides users with an executive view into an enterprise's compliance posture and drastically reduces time and costs required to meet compliance regulations. LogLogic Compliance Manager 2.0 also improves audit speed and accuracy as well as the overall transparency of compliance activities.
New features in LogLogic Compliance Manager 2.0 include custom interactive dashboards and improved usability; support for customizable workflows to ensure reports are properly reviewed; support for multiple compliance regulations including PCI 2.0, SOX/COBIT, HIPPA, ITIL, FISMA, ISO, NERC or user-defined; software only distribution with no appliance needed; support in both Windows and Linux distributions; and Active Directory support for remote authentication of user accounts.