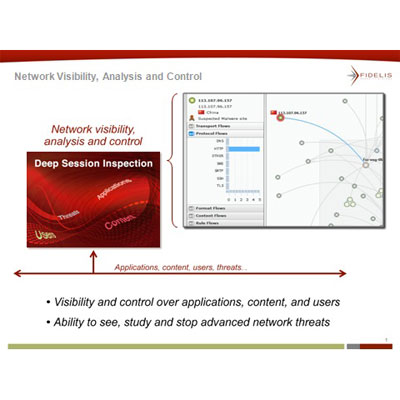 Fidelis/CloudShield Application And Content Inspection
Fidelis Security Systems and CloudShield Technologies partnered up at RSA to offer a deep application and content inspection network security solution. The combination of CloudShield's Deep Packet Inspection platform and Fidelis' Deep Session Inspection technology gives enterprises, government agencies and Internet service providers defense against advanced threats and helps prevent data breaches with real-time network analysis, visibility and control.
The Fidelis-CloudShield solution is deployed at the network perimeter or at boundary points between zones of control or different levels of trust in the core of the network. The solution assists network security professionals to visualize, analyze and contain advanced persistent threats and detect or prevent the unauthorized transfer of sensitive or classified information. Leveraging the strengths of each technology, the solution is able to scale up to tens of Gigabits of throughput in a single chassis.