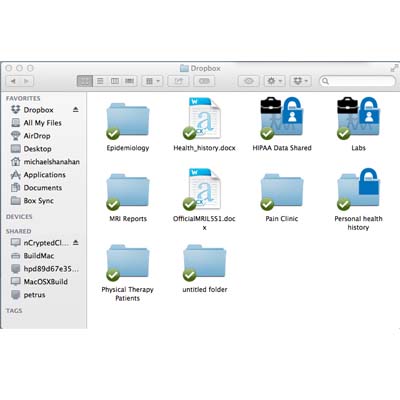 Dropbox Security Layer
The nCrypted client (shown here on Mac OS X) implements a virtual viewer of a Dropbox folder. Normal icons appear with a series of new icons on top that indicate the security status of the folders within. A solid blue lock indicates encrypted personal data, a blue lock with a person contains shared encrypted data, and a black brief case shows a folder that's corporate-owned and encrypted with corporate keys.
"It's challenging to protect info, especially outside of firewalls and corporate networks," said Stamos, whose past endeavors include the founding of data security firm Verdasys. "Some solutions enable users to share data, but there's no revocation action available. In ours, you can," he said, because encryption policies are persisted within a file when it moves outside control of the system. "So even if it's outside of a protected folder, the file retains the policy." It can even be revoked. More on that later.