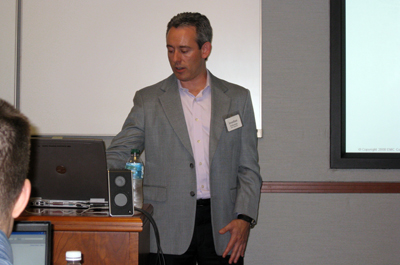 Starting the event was Jonathan Huberman, president of EMC's Consumer and Small Business Products Division, a new division of the company based primarily around EMC's acquisition early this year of Iomega.
Huberman, who prior to the acquisition was Iomega's CEO, said EMC acquired his company because of the fact that, according to analysts like IDC, about 70 percent of all data will be created by individuals by 2011, and that by integrating Iomega's small business and consumer hardware products with EMC's Retrospect backup software and Mozy on-line storage service it could better serve that market.
Huberman said that EMC has a lot to learn in terms of innovation and how it applies to the consumer and small business market. For instance, he said, the typical customer has five basic needs -- ease of use, reliability, good design, functionality and price. Of price, he said, "That's a given."
An important trend when dealing with consumers is the importance of making products available as quickly as possible. "Time-to-market is critical, especially on the consumer side," he said. "The right decision for six months later is the wrong decision for today."