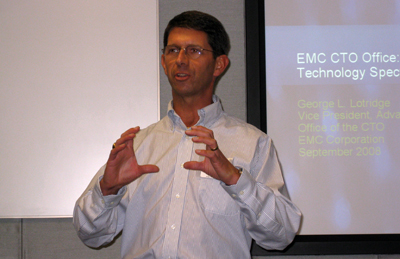 Technology is also driving change, Lotridge said. He cited virtualization and software-as-a-service, high-speed ubiquitous networking, service-oriented architectures, grid and cloud computing, and the need for security as important technological drivers.
As a result of all these forces, the mission of the CTO office at EMC has become one of helping define and steer long-term technology strategy for the company, translate technology into things businesses can use and understand, and drive integration into new core products so that they can work together without the customer even thinking about it, he said.
With traditional businesses, there is an innovation gap between an idea and deployment of the idea, especially between business units, Lotridge said. The CTO office drives innovation to fill that gap and drive integration between business units. "My group explores technology to see what it means to EMC," he said. "It may not be something that becomes a product."
Some of the technologies EMC is currently exploring include using Web 2.0 social networking tools on top of existing infrastructures to improve total customer experience, exploring and prototyping a cloud computing infrastructure, automating the means of validating configurations against business continuity service level requirements, providing a service for use in applications which need to keep data on the lineage of information, and developing mobile virtual PC computing using USB, VMware, and RSA components, he said.